Phantom
Powder Hound Offers PHANTOM!
As skiers and snowboarders, we've all been there—excited for a Spring ski day, we charge off the chairlift to feel our bases hang up in slushy snow. Sometimes it happens as we exit the shade into a sunny part of the run, to an even-more-jarring surprise.
Gliding well in the Spring can make all the difference between a stellar day on snow and frustration. Glide equals performance: easier initiation, better power exiting turns, more balance, and more fun. And while we're being honest, can we really be bothered to wax our skis as the season wanes and snow begins to melt?  
PHANTOM
. It's a permanent, one-time application base treatment that forever eliminates the need to wax your skis or snowboard. Apply once, glide forever.
Sound like magic? It's really all about innovative science. At Powder Hound we can get you gliding effortlessly through the conditions.
---
Three Undeniable Benefits
.
Permanence.

Permanence breeds ultimate convenience. With PHANTOM, you apply the formula once at any point in your ski or snowboard's life cycle, whether new or used.
It's that simple. PHANTOM's sophisticated, timed polymerization process permanently penetrates the entire thickness of the base material with powerful go-fast fluoro compositions designed to operate across all snow temperatures. Even when the ski or snowboard goes into a shop for stone grindings, the next fresh layer of PHANTOM is exposed –– ready to glide.

Performance.

Unless you are constantly waxing with correct temperature specific waxes, PHANTOM is faster across all conditions over time because its performance is consistent: you never suffer the glide degradation that occurs when conventional wax quickly wears away.

 

Environment.

Today's snow is tomorrow's water. The innovation centers around the inclusion of glide-friendly fluorocarbon functional groups, but in a superior, new delivery method that renders them inert and harmless to humans, plants and animals. Cured PHANTOM doesn't cause biological damage, and doesn't present any long-term environmental risks.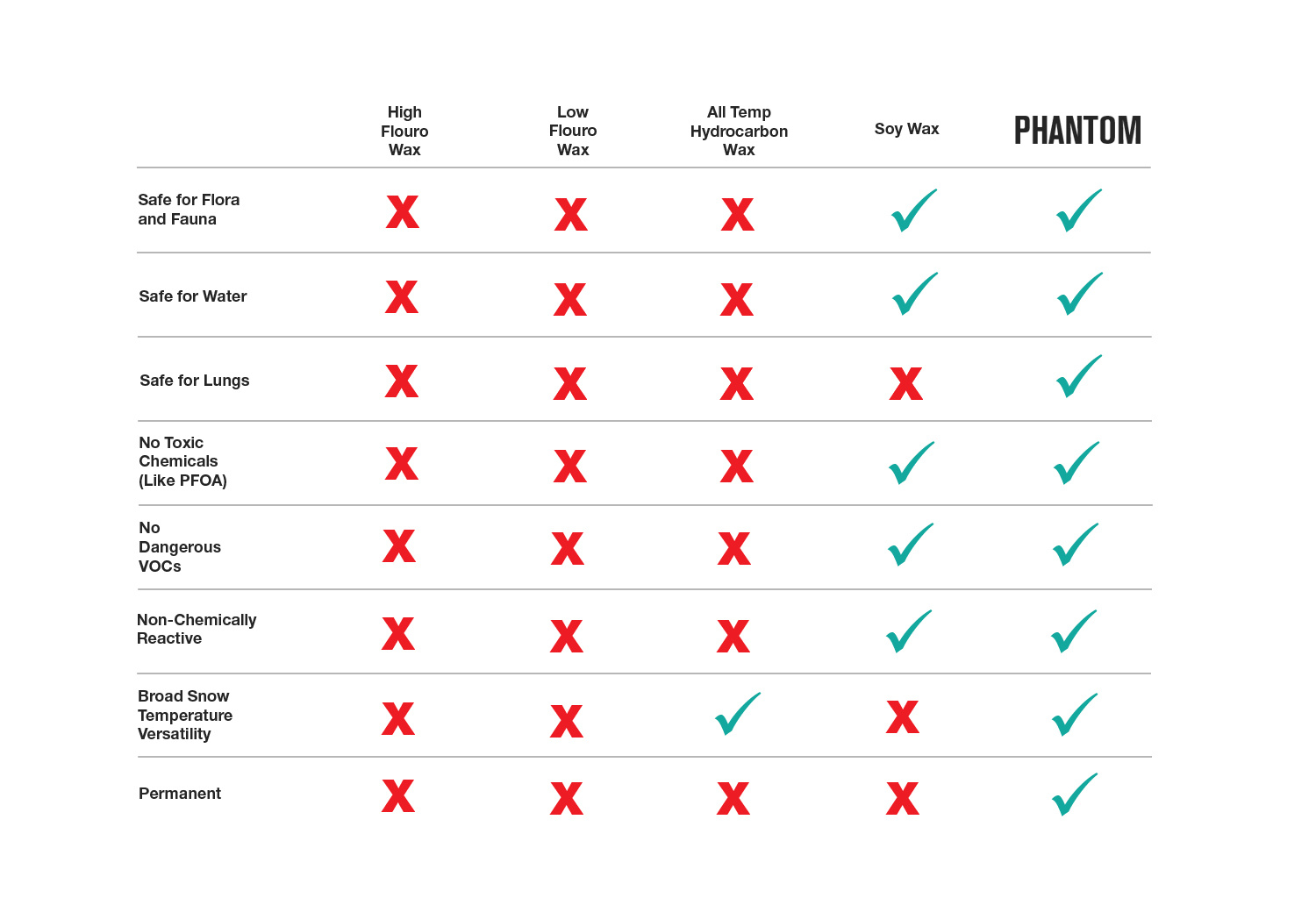 Cure Station

PHANTOM is applied professionally by Powder Hound Ski Shop, an authorized PHANTOM Installer using a Cure Station.

Cure Station application, is the most precise and fastest method to apply PHANTOM to skis or snowboards, and is a reliable all-season solution during the low light winter months, especially in more extreme latitudes, and in wetter climates where sunshine isn't as consistent such as Alaska.